Paul Groh MCHS 1978
November 7, 2001
Dear Doug:
Here, as promised, are some photographs of various vintages for you to post on you web directory of MCHS alumni. I look forward to getting a scanner of my own so I don't hvae to do the the hard was all the time.
The subjects of the photos, as numbered on the reverse side, are as follows: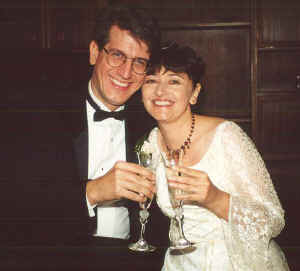 1. Click on photo to see the full-size version)
1) Self with Wendy Emily Davies at our wedding on 6 May 2001 in Kulnura, New South Wales, Australia.
Wendy was born in Los Angeles, but she barely remembers the place. Her parents came from Gibraltar, where her brother Ron was born. (Ron is 19 years older than Wendy.) They moved to London during the war, then on the America, first to New York (where her brother Frank was born), then to California. The family moved to Australia in the early '60s so that Ron wouldn't have to serve in Vietnam. (I'm descended from German draft-dodgers, so fair enough.) The rest of hte family wanted to go to Canada, but Wendy's mother insisted on Australia, so Australia it was. Ironically, within a year of their arrival here, Ron met and married a Canadian girls and has lived in Vancouver ever since. A further irony is that my mother-in-law took an immediate dislike to Australia (which, truth to tell, was a neither backward place in the 1960's, especially compared with southern California), and in spite of all her plans to retire to Canada she's still here. So is Frank, a music teacher and percussionist.
Wendy manages an automobile business in the city of Gosford. She married at eighteen for the first time and has two children, Sarah (23), who is assistant manager of a resort in the Megalong Valley, and Luke (17), who is finishing high school this year. Luke plays bass guitar in a rock band called Fuse 76 and gets more use out of my bass amp than I do.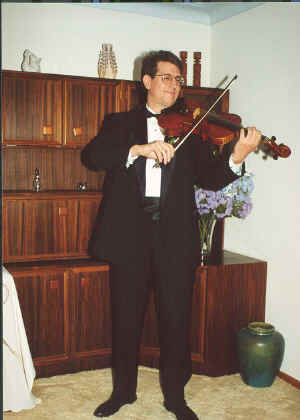 2. Click on photo to see the full-size version)
2) Self with the other love of my life. I play a 17" viola made in 1906 by Charles Enel, who was the top violin maker in Paris in the first part of the 20th century. Seventeen inches (that's the body length) is big for a viola. This instrument was Sotheby's in London for two years but had no takers because of its size; however, I have the long arms that can handle it. I negotiated with the owner and got it at a good price, as fine instruments go. I still had to take out a loan (I got a good interest rate because the loan officer classified the viola as an appliance) and make big monthly payments. IN order to meet these, I gave up meat, snacks, soft drinks, cigarettes, beer cable TV, and led a stoic existence fueled by beans, rice, bulghur wheat, and viola music. I lost 35 pounds and paid off the loan a year early.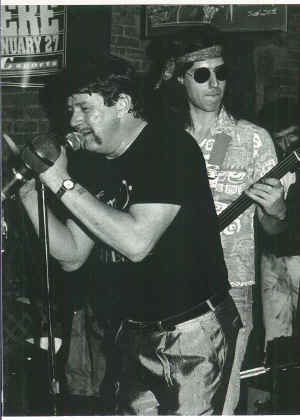 3. Click on photo to see the full-size version)
3. From my rock and roll years; a "Support Our Troops" sticker on my guitar strap dates this photo from the beginning of the Gulf War, or January 1991. During the late '80's and early '90's I played bass guitar in two different rock bands, and this photo is of hte second one, Crazy Pete Dallas and the Looselife Wranglers. That is undeniably the stupidest name for any band in the entire history of music, but I joined the band after its establishment and had no say in the matter. This singer in the picture is not Crazy Pete but Frank Lynch, who played harmonica in Chicago for such blues legends as Muddy Waters, Willie Dixon, and Little Walter. We were a good rockin' bar band, pleasing to even the most obnoxious drunken bikers; but our one CD All Roads Lead to The Blues was a hit in only four radio markets, all of them in Alaska. When I heard that a new symphony orchestra was being founded in Kentucky I auditioned and got in, and gave up the rock and roll life. I still play bass professionally, in musical theatre, Latin banks, and even backing up some of Australia's top country & western singers. It's a living.
For the record I play a 1976 Guild fretless jazz bass (model JSB-2) with a maple body and rosewood fingerboard. As far as I've been able to determine, it's the only bass of its kind in Australia.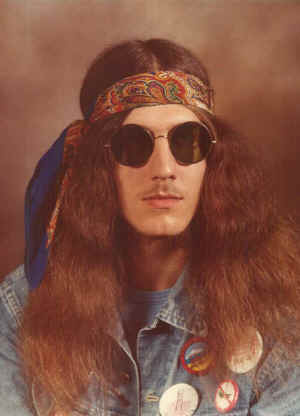 4. Click on photo to see the full-size version)
4. My senior picture from Southern Methodist University, class of 1983, Bachelor of Music, Dean's Honor Scholar. I still have lots of these, because for some reason my parents never got around to sending them out to friends and relatives. It's a good picture, though; the "Aloha" button is a nice touch. For two years I was the most conspicuous landmark on the SMU campus, next to the dome of Dallas Ha... There were even cartoons of me in the Daily Campus. As I wrote before, if you know anybody in Dallas who was at SMU from 1981-1983, they'll be certain to remember me.
Anyway, there they are. I look forward to seeing them posted.
Keep in touch. Best wishes to you and your family.