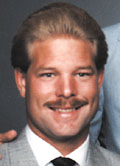 Robert Brown was born to be a police officer, his mother said.

"Robby believed in the truth, law and order, and he was always arresting drunks," said his brother, Craig Brown. "Isn't it ironic that he was killed by a drunk."

Robert Brown, a Dryden Township police officer, was killed by a drunken driver as he left work late Monday and was heading home to Mount Clemens.

The driver of a Ford Econoline van, which was going northbound on Van Dyke near 28 Mile Road, crossed the center line and struck Brown's pickup truck head-on. The driver of the van then struck another pickup truck, but that driver wasn't seriously injured.

Brown was killed instantly, said Inspector Richard Kalm of the Macomb County Sheriff's Office. The driver of the van, who was not wearing a seat belt, was thrown out of the van. He is listed in critical condition with severe head injuries at Crittenton Hospital, Rochester.

The driver of the van was drunk, officials said. He had two prior drunken driving convictions and if he survives the ordeal, is expected to be charged with second-degree murder.

The suspect is 37 years old and lives in Shelby Township, according to Sgt. John Michalke of the Macomb Traffic Bureau. Police believe his intoxication level was extremely high.

"It was a terrible crash," said Inspector Kalm, who was driving on Van Dyke and was only seconds behind the crash. "Once again, we have an individual who has no regard for the law and goes out and kills a very innocent man who leaves a caring family."

Brown's father is the late Guy Brown, former longtime chief of the Macomb County Probation Department. His mother, the former Sigrid Heine, comes from one of the first families to settle in Mount Clemens. Her father, Austin Heine, was a Mount Clemens doctor.

Brown was hired in September 1991, and worked all aspects of law enforcement in Dryden Township, said Andrew Van Planck, chief of the township's police department that employs three full-time and nine part-time officers.

"He loved his job," Van Planck said. "He handled every job here and especially was involved in countless drunken driving arrests.

"He is going to be missed."

Brown's mother said her son always tried to help people. Brown only recently bought a house almost across the street from where he was raised on Eastman Street to better help his mother in her senior years.

"He was always around when you needed him," said his brother, Craig Brown. "It is a terrible irony that he would be killed by a drunk driver, especially when he was so against drunks who get behind the wheel of a car."

Craig Brown said his brother often won the Mothers Against Drunk Drivers "red ribbon" award for coming down hard on drunken drivers.

Brown's other brother, Jim, is a police officer in Lake Park, Fla. His sister, Jayune Ethier, lives in Clinton Township.

Another sister, Nancy Ann, died in October 1972, when she was struck by a school bus while crossing Cass and North avenues.

"My brother was the all-American boy," said Craig Brown. "He enjoyed hunting, fishing and trapping."

Mrs. Brown said her son, as a youngster, used to trap muskrat on the Clinton River and freeze the meat and sell the pelts.

Funeral services will be held early next week at Harold W. Vick Funeral Home in Mount Clemens.