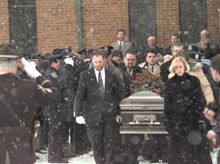 Macomb Daily photo by Jamie Charbeneau

---
Pallbearers carry the casket of Robert Brown past hundreds of assembled police officers after his funeral at First Presbyterian Church in Mount Clemens. Brown was killed by an allegedly drunken driver on Dec. 20.
---
With heavy hearts, their eyes brimming with tears, police officers from all over southeastern Michigan stood together and saluted.
They saluted a fellow officer who had left their ranks far too soon at the hands of the very criminal he had tried so hard to stop -- an alleged drunken driver.
On Tuesday, about 400 people gathered at First Presbyterian Church in Mount Clemens to celebrate the life of Robert Brown.
Brown, a Dryden police officer, was killed Dec. 20 on his way home to Mount Clemens. A 37-year-old Shelby Township man crossed the center line on Van Dyke, near 28 Mile Road, and struck Brown's pickup truck head-on.
"It's so ironic when you think about it," said state Rep. Alan Sanborn, a childhood friend of Brown's. "It's such a senseless tragedy on so many levels."
Friends and family stood before the weeping crowd to share their memories of Brown.
"He had a great sense of humor," said Craig Brown of his partner of 12 years. "To my buddy and friend -- I miss you already."
Dryden Police Chief Andrew Van Planck spoke glowingly of his officer and then read a poem.
"When the news passed through there wasn't a dry eye in town," Van Planck said. "He was a good cop."
Brown's brother, Jim, who is a police officer in Lakeland, Fla., related a story about he and Robert struggling to capture a shark. The tale helped change some tears to laughs.
"The legacy that Rob leaves to us is the wonderful memories he left us," Jim Brown said. "As long as that laughter lives, Robby Brown lives."
Jim Brown, who bears a striking resemblance to his brother, reflected on the special bond they shared.
"To this day, people still remember things Robby and I did as kids," he said. "When I saw all those people looking at me, and the look in their eyes, I know what they saw. Even though it warmed my soul, it hurt because they saw Robby in me."
Another brother, Keith Brown, spoke about forgiveness for the driver who took his brother's life.
"We certainly have a lot of anger about what happened," Keith Brown said. "But forgiveness is important. I would like to start the process of forgiving."
The suspect, who had two prior drunken driving convictions and was driving on a restricted license the night of the accident, is still at Crittenton Hospital in Rochester where he was transported after the accident.
In an effort to keep Brown's memory alive, Sanborn is working with Van Planck and Lt. Dennis Rickert of the Mount Clemens police on setting up a scholarship in Brown's name. The scholarship would benefit law enforcement students.
Sanborn is also pledging to introduce legislation in the new year that would tighten Michigan's drunk driving laws.
"I want to see where we are failing because we're not winning the war on drunk driving," Sanborn said. "I want it to be said that Michigan has the toughest drunk driving laws and that we won't tolerate it here.
"I have lost an old and dear friend to a repeat drunk driver," he said. "And that's something he tried so hard to stop. I want to carry on where Robby left off."