Friday July 9, 1999 - Second Day at Sea World
Well, we were all tired by Friday but Doug forced everybody to go back to Sea World so that he could take some more photos. (Best photo site in Orlando.) Besides, the Shamu show was cut short when we were there earlier in the week. This time we arrived at the show very early so that we could sit in the front row. Don't recall if it was more important for Doug to get good shots or if the kids wanted to get soaked. In any event, we accomplished both tasks.
Lesia was ready for a great day.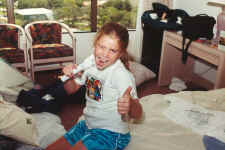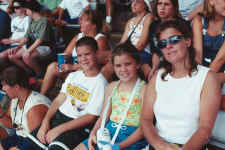 We were sitting on the very front row in the middle. The announcers kept repeating a warning to me that my camera was going to get wet. It did not. I did. I was able to turn around when the big splash came and saved my camera.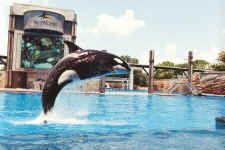 This guy is one big dude. (Looks like he just ate a trainer.)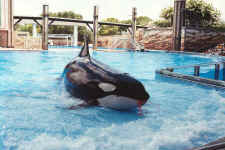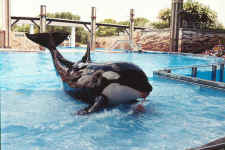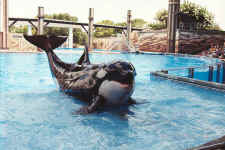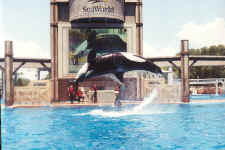 I don't remember the name of this guy. This is the biggest killer whale in the world in captivity. All he does is breed and swim around the pool and soak people. Not a bad life.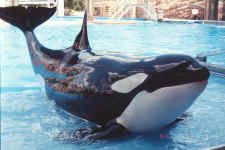 The family demonstrates that it really is not that difficult.