(For the severely internet impaired, you have to double-click on the underlined dates to see the photos. Then, double-click on any small photo to see the full-size photo.)
September 11, 1999
Lost to the Pirates. I have no idea what the score was. Alex and Tom both hit home runs.
June 17, 1999
Lost to the Braves in a very exciting game. Doug had a bad film day.
June 12, 1999
Played about 1.5 innings before the game was called off because of rain. I was trying out a used lens that I was thinking about buying. To see how well it worked I got these photos developed in 30 minutes at the local Kroger (at three times the normal Sam's price.) I ended up buying the lens, but then an hour later the seller asked me to sell it back to him because he got a better offer. Oh well, I really did not need it anyway. (But I did get some nice shots with it.)
June 9, 1999
Ok, so I don't remember a lot about this one either. I do remember that it was called off after three innings due to rain. I left shortly before it was cancelled because I got a lot of flying dirt in my contacts. Photos are still not back from the processor.
June 2, 1999
I don't remember the specifics of this game. I only remember that the Orioles lost and that it was a night game. My Nikon 300mm f2.8 lens showed it's value by allowing me to get photos at night from approximately 60 feet without a flash.
May 22, 1999
Lost 11-10 to the Reds. The Orioles were down 10-5 when Zach came in and had a great pitching performance that almost allowed the Orioles the come back and win the game.
May 15, 1999
The Hornets pulled away with a thrilling 11-10 victory. It was very close but the difference in the game was brilliant field strategy by Coach Tiholiz.
May 08, 1999
The Hornets get their first victory of the season over the A's.
If you stop by to visit, send an email the webmaster at doug@dougfejer.com
Here is one of my favorite photos from last spring. Coach T. shows us his "I'm bad" pose.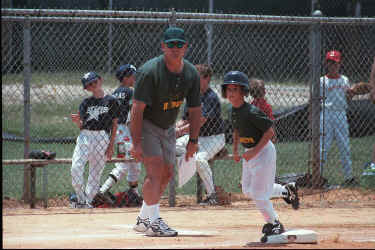 (Click on photo to see full-size version.)
Go to dougfejer.com to see other photos.