Games
June 14, 2001 v. Dodgers
Links
www.douglasfejer.com

The game on June 14, 2001 would be Alex's last game of the season. (He is headed to Camp Sweeney for 3 weeks. Camp Sweeney is a camp for diabetic children so our choices of times were limited.) Anyway, we decided to try to get some team photos in. Unfortunately, I did not have an electronic flash with me.)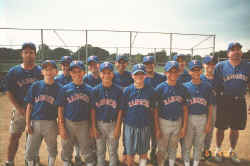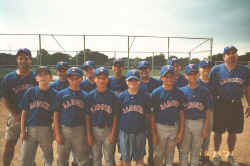 Would you buy a used car from either of these guys?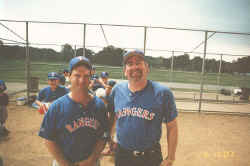 We had planned to have the boys dump water on the coaches on my count to 3. Unfortunately again, Coach Cameron took these photos seriously and as a result did not allow the boys to carry their water bottles during the photo shoot. Wonder if he figured out the fix was on? It would have made for a great shot. I am sure Stacy did not realize that he and Mark were in for a dunking.
And many thanks to Coach Stacy and Coach Mark for all of their time and effort. Alex had a wonderful season and I certainly appreciate them for their commitment and all that other great stuff they did for the boys.