Welcome to Doug's
Unofficial Storm Green 86
Soccer Photo Page
(No mission statements, no club profiles, no coaches' corner, no club officers,
no tryout schedules, no skills sessions, no character statements, no newsletters,
and no Renoir's dressed up as soccer players)
JUST ACTION PHOTOS!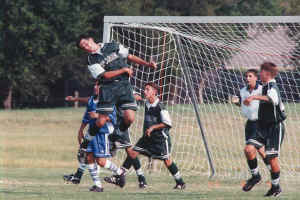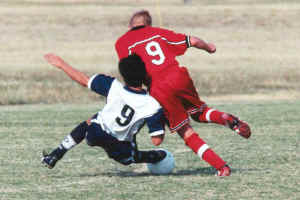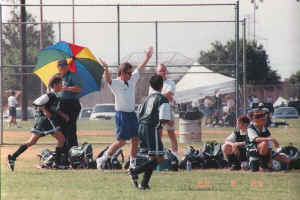 The Storm Soccer Club now has a new website. Check out www.stormsoccerclub.com The Storm 89 girls also have their own site at www.geocities.com/Colosseum/Goal/8058/
Fall 1999 Schedule -From the Coca-Cola Boys Classic League website
http://wylie1.com/ndccsa/fall99/SCHDC214.HTM
The Photos!
(For the internet impaired, double-click on the underlined dates to see the photos)
October 23, 1999
Lost to Garland Strikers White 1-0..
September 25, 1999
Lost to the Dallas Texans 2-0.
August 29, 1999
Lost to Soccer-America 2-1 in a shootout.
August 28, 1999
Lost to Andromeda-Dallas 2-1. Only got a few photos as this game did not start until approximately 7:45 pm and the lighting was poor.
August 7, 1999 vs. Andromeda-Dallas
Storm defeated Andromeda-Dallas 1-0 to win their division in the Coca-Cola Classic League Tryout tournament. Congratulations to all of the players, coaches, and parents.
August 5, 1999
Storm defeated the Comets-Red 2-1 in their first game in the Coca-Cola Classic League Tryout tournament. (Boy howdy, did ol' Doug ever get some nice photos.)
July 24, 1999 - Practice Tournament
This was the first game of the day. Storm won the game 1-0. (I never did get the name of the opposing team.)
June 20, 1999 - Texas Flamefest Tournament
Lost to the Dallas Texans Texas Lightning Black (thank you for the correction) 4-1. I brought out my real lenses for this game: A Nikon 300mm f2.8 combined with a Nikon TC 14b Teleconverter. (This gave the lens an effective focal length of 420mm.) Most of the shots were taken without the teleconverter attached. These photos are much sharper than those taken at the previous game in Ft. Worth. I thought I took four rolls of shots at the game but I can only find 3. Based upon the shots I did get I may have only taken 3.
May 23, 1999
Semi-final game in Fort Worth. Storm won this game approximately 4-0. I was experimenting with a new lens combination that worked so-so. (Tokina 80-200mm f2.8 zoom combined with a Nikon 2x teleconverter.)
March 21, 1999
Lost to the Hawks 2-1 on a beautiful Sunday afternoon. Storm was leading 1-0 at the half but the Hawks came out to play in the second half.
March 20, 1999 (Updated 4-4-99)
Lost to F.C. Dallas 3-2 on another cold and windy day. I used slide film for my second and third rolls. (photos "b" and "c") My scanner does not appear to scan the slides as well as the prints. Many of the slides appear fuzzy. The original slides are very sharp.

March 6, 1999
Defeated Kicks 4-1 on a very chilly Saturday morning. Storm were trailing 1-0 until very late in the first half when an unassisted goal was scored by Martin. Here's the photo of the week. Notice how high James is off the ground.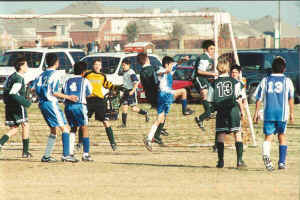 ("Air Rahardja" does kinda sorta have a nice ring to it.)
Photos from Last Season
October 25, 1998
Comments, suggestions? Hit this link to email the webmaster doug@dougfejer.com.
To see the rest of my too cool photos, go to www.douglasfejer.com