Belt Test - March 28, 1998
(Click on the thumbnails to see the full size photos)
We start out this belt test with a few dance moves.
On to the breaking
Beth is one tough hausfrau.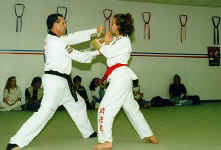 And after the test it is time to get a photo with Mr. Hines and Master Ahn. (The film did not pick up the true brilliant color of the sport coat.)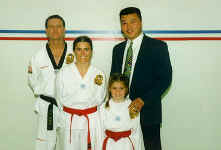 These next two photos of Lesia were taken at a private lesson.
The following photos were taken at class following Lesia's lesson.
I'll have to get a blow-up of this shot.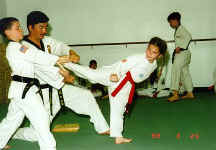 Back to Doug's Tae Kwon Do page.
Back to DougFejer.com
Back to Doug's homepage.