Alex and Doug's Ultimate Adventure - 2002 8th Grade Ski Trip - Page 1
(Click on the individual thumbnails to see the full-size photos)
Well, there is no substitute in life for good fortune. A few weeks ago our old friend Jack Oros saw Beth in the Greenhill parking lot and told her that they needed another male chaperon for the upcoming 8th grade ski trip. Well, we had planned to go to DisneyWorld for spring break but Lesia did not want to miss any of her soccer games. So, Alex and I went to Crested Butte with a bunch of eight graders (mostly.)
Sunday, March 24, 2002
We took off on a sleeper bus on Sunday at about 3:00pm. The bus has a capacity of 40. Since there were only 18 of us the trip was quite comfortable.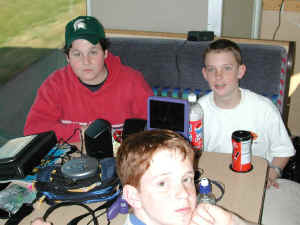 Gabe Oros relaxes with a cigarette.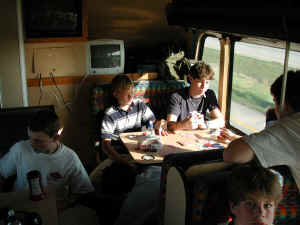 Here we see Kitty Smith, Jack Oros and Joan Oxford.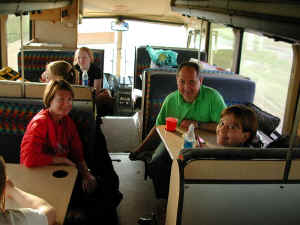 Is that Deion?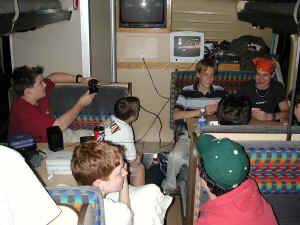 Monday March 25, 2002
I snapped this shot from the bus window just as I awoke on Monday morning.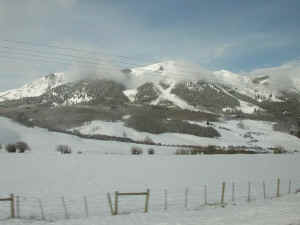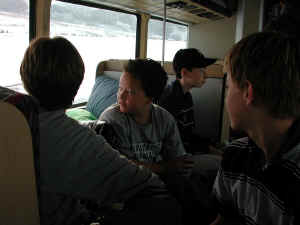 These shots were taken Monday night after the first day of skiing.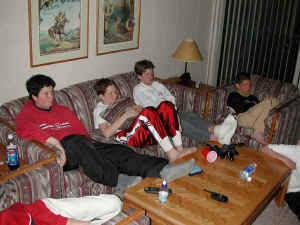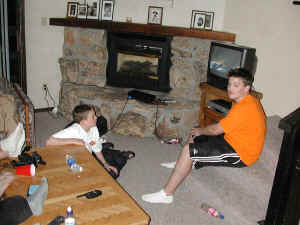 Page 1 Page 2 Page 3 Page 4 Page 5
Back to www.douglasfejer.com