Greenhill v Cassidy Friday October 10, 2003 Page 1
(Double-click on the individual thumbnails to see the full-size photos)
(These photos are best viewed with the monitor set to 1,280x1024)*
They say you can't teach an old dog new tricks. Doug showed up at the game with an electronic flash on top of his camera for the first time at a night time event. I spent much of the week getting advice from professional photographers on the internet. I like the results, although I did get plenty of blown shots.
I arrived just a little bit late. Just in time to get a shot of the back of this Cassidy player running an interception into the end zone.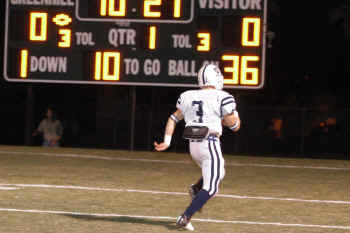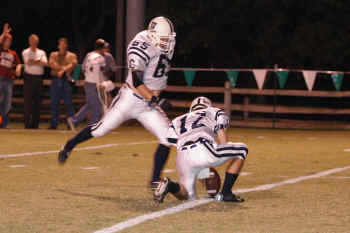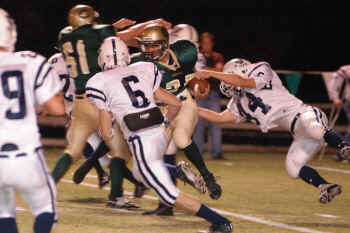 What do we have here? Appears another Greenhill dad has purchased a new digital toy.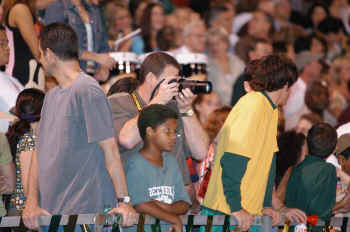 So, why was it so much work for me to figure out how to use the flash. Because this was the look I was trying to achieve.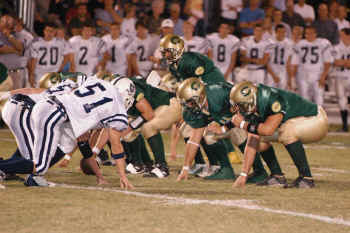 Notice the players standing in the background. The flash is not providing the light needed to illuminate those players. So, I am using the flash to simply allow me to slightly reduce my "film speed" and also increase my shutter speed while still keeping the background light. So, I am only using the flash to slightly brighten the players. (The flash is set to 1/16 its normal power.)
Well, it ain't perfect. Shots at the wide end of my zoom lens are all over-exposed. I will have to work out that wrinkle.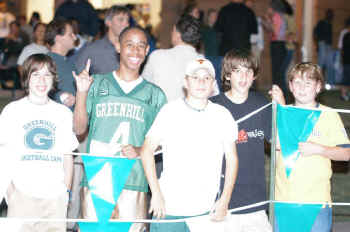 The flash really gives me much nicer shots while standing in the end zone. It is particularly dark at both ends of the field.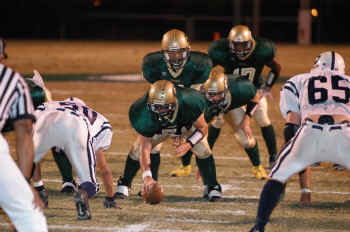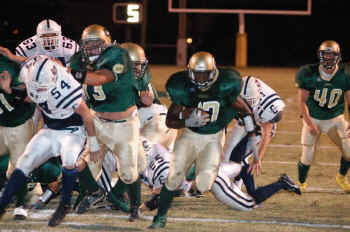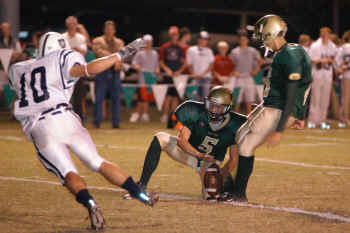 If I am not mistaken, Brandon scored a touchdown every time I took a photo from the end zone when Greenhill had the ball. (3 times.)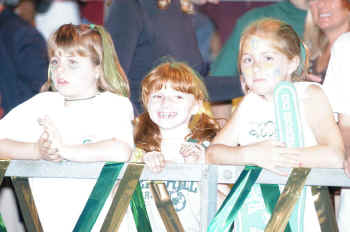 So, without the flash I had my film speed set at 3200 and the shutter speed about 1/125 second. With the flash I have the film speed set at 1600 and the shutter speed set to 1/180. The extra speed on the shutter makes a big difference. (Although it is still too slow to really get good football shots. But that is also a limitation of my camera. That is simply the fastest it will synch with a flash. The higher model digital cameras will sync at about 1/400th with a flash. Maybe next year.)
Let me guess here. Is the girl in the middle related to the woman in the background. The expressions sure appear to be similar.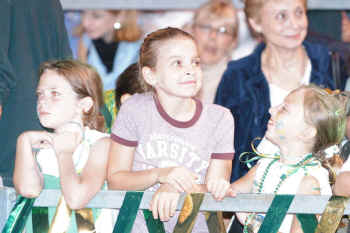 Good news and bad news. Brandon intercepted the pass but then fumbled at the end of the run.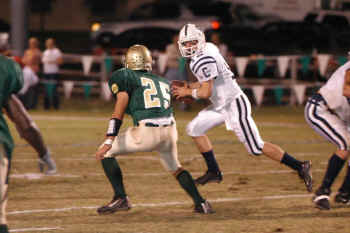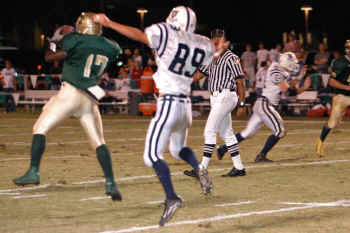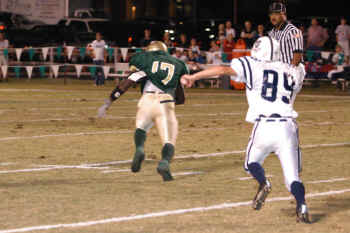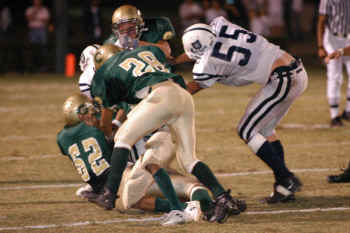 Page 1 Page 2 Page 3 Page 4
or, back to Doug's Greenhill Football Photos
*Also, if using Microsoft Internet Explorer. Go to "tools: internet options: Advanced: Multimedia" -
Check the box "enable automatic image resizing."