Mt. Clemens High School Class of 1976 Thirty-Year Reunion - 2006-09-27 Page 1
(Double-click on the individual thumbnails to see the full-size photos)
(These photos are best viewed with the monitor set to 1,280x1024)*
First, a photo of our new addition "Duke.".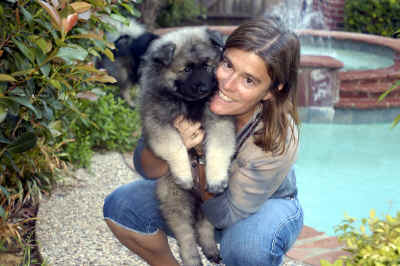 About 20 of us showed up at the MCHS football game to get reacquainted.
| | | |
| --- | --- | --- |
| Kim White, Jaime King, Marci Climer, Kim Wood, Jennifer Arvo | Nancy White, Jill Towner, Kim White, Jaime King | Bud Kowalski, Jill Towner, Jaime King, Kim White, Joe Hadley |
Hmmmmmm. Seeing Nancy White and Kim White in a photo together caused me to do some thinking ...... and then some digging. Check out these two photos from 1957.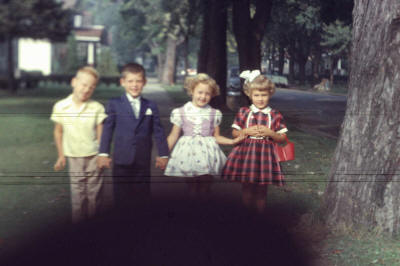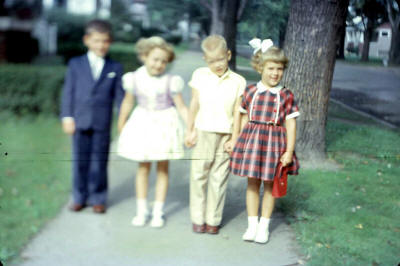 Looks like somebody's birthday party. In the first photo Jack White, Paul Fejer, Jr., Cathy White, Lesia Fejer. (Back in those days mommas would dress their kids up. Check out my late brother's fancy suit. He always was a dapper dresser.)
Twins Jack and Cathy graduated from MCHS in 1968 with my brother Paul. My sister Lesia graduated in 1969. Look for Jack to be inducted into the MCHS Sports Hall of Fame someday. It is my recollection that he meets many of the criteria for election. I also seem to recall that he held the MCHS record in the mile for many years. I remember seeing photos of him holding very large trophies in my brother's 1968 yearbook.
1959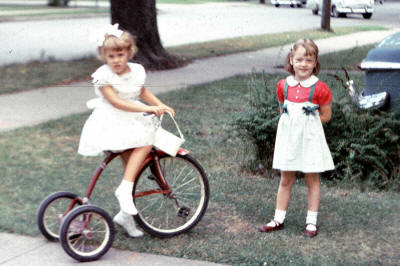 Later, the activities moved to the Orleans Billiards hall in downtown MC.
| | | |
| --- | --- | --- |
| Judy Wilcox, Lori Nokken | Kim Dubay, Marci Climer, Jaime King | Mr. Judy Wilcox, Debbie Rhoel, Fred Roskopp (Debbie's husband) |
| | Dalia Guzman | |
| | | Lori Nokken, Dan Daniels, Kim White, ____ Zimmer |
| | | Bud and Lori Kowalski |
| Jennifer Arvo, Rick Ziehmer, Kim Wood. | These folks attended Lincoln school. (I made my way around the Mt. Clemens schools: Macomb K-2, Lincoln 2-4, Wilson 4-6, Macomb 7, Seminole 8 then MCHS.) | Earl Pickford and sister |
| Fred and Debbie Rhoel Roskopp. | | |
Hit the links below to see the rest of the photos from the reunion.
Page 1 Page 2 Kim Wood's Photos Kim Wood 02 December 9, 2006
Back to www.douglasfejer.com
*Also, if using Microsoft Internet Explorer. Go to "tools: internet options: Advanced: Multimedia" -
Check the box "enable automatic image resizing."