The Games
Spring 2000
April 15, 2000
April 01, 2000
Mar.25, 2000

Winter I
Mar.18, 2000
Mar.11, 2000
Mar. 4, 2000
Feb. 26. 2000
Feb. 17, 2000
Feb. 12, 2000
February 5, 2000
January 29, 2000
January 22, 2000

Other Links
Hornets Girls Indoor Soccer
Hornets Indoor Soccer
91 Co-ed Team



(The premier Texas indoor soccer facility for Richardson, Plano, and North Dallas)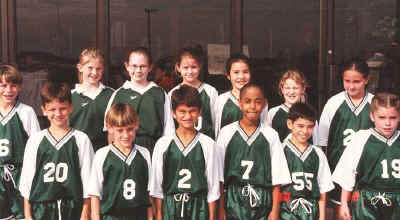 (Front Row L-R: Jack, Will, Alexander, Phillip, Cameron, Lesia.
Second row: Chas, Logan, Katherine, Laura, Andrea, Hilary, Hannah.)
Spring- 2000
The indoor co-ed Hornets consist mainly of players from the outdoor girls and boys Hornets teams playing through the Dallas North Soccer Association. For the Spring 2000 season the team welcomes 4 new players. Ellen joins the team from the Mesquite Rockets, Molly from the DNSA Jazz, Paige from the SAMBA team that several of the girls also play with, and finally classmate Xave who, despite being very talented with a soccer ball, has never played on a soccer team before. A special feature of this collection of players is that the team does not practice. The team's focus is simply to show up at games on Saturdays and have fun playing soccer.
The team is coached, managed, dictated, etc. by Beth Fejer (Lesia's mom) and Diane Rahardja (Andrea's mom), the Hornets girls' outdoor coaches. (And thanks to Dr. Dave Turner, Hilary's dad, for providing space on his me with my own internet server for these photos. In the past I have always had to delete photos as I have added new ones due to web space limitations. NOT ANY MORE, BABY!!!!!)
Want to send email to to the photographer/webmaster? Use doug@dougfejer.com Beth can be reached at beth@dougfejer.com
Photos - 2000 Spring Season
(For the internet impaired, click on the underlined dates to see the photos. )
(For the totally impaired, if the date is not underlined it means I don't have the photos back yet.)

April 15, 2000
Lost to the Comets 3-1.
April 1, 2000
Lost to Bowie Burn 3-0. The Hornets were able to keep the came tied at 0-0 until halftime but could not hold on in the second half.
March 25, 2000
Defeated Cyclones 1-0. The only goal was scored by Hilary. It was a great game.
3rd Grade Spring Concert
So it is not soccer, but hit this link to see several of the players singing.
March 18, 2000
Started the new season out with a 5-2 victory over the Vipers. Goals were scored by Will, Ellen, Paige, and Kellye (2). Took a lot of photos since we had so many new players playing in their first games. Boy howdy, Doug had a good photo day.
Photos - 2000 Winter II Season
March 11, 2000
Lost the final game of the season to I.P.Snakes 2-1. The Hornets' goal was scored by Andrea. Another very close game and perhaps somewhat unlucky for the Hornets. I think the Hornets actually had more scoring opportunities but just missed on several occasions. Difference in the game was goalie play by the Snakes. Really nice effort by both teams.
March 4, 2000
Defeated McKinney Masters 2-1. Goals were scored by Logan and Jack. Hornets had another great performance from all of the players on both offense and defense.
February 26, 2000
Defeated the Eagles 1-0. Cameron and Jack earned the shutout as the game's goalies. Jack also scored the winning goal. What a great game! (So much for fingernails.)
February 17, 2000
Defeated the Comets 5-0. It was a fun game as the team really put on a nice show. A great effort by all players. Doug also got some nice photos.
February 12, 2000
Defeated Bowie Burn 3-2. Goals were scored by Logan, Chas and Philip. It was a very intense game as you will see from my photos. It is difficult for me to take shots during an exciting game. I think I missed all of the goals. I think Jack was the player of the game as the Hornets were out shot by a pretty significant margin but he kept the team in the game with his great goalie play.
February 5, 2000
Lost to I.P. Snakes 5-3. Goals were scored by Will, Logan, and Chas. The Hornets were short-handed in this game and responded with their best effort of the season.
January 29, 2000 v Garland Hornets
Lost a tough game to 3-1. The Hornets' goal was scored by Philip off a free kick.
January 22, 2000 v. Knights
Got off to a great start with a 4-0 win over the Knights. Goals were scored by Chas, Logan, Jack, and Lesia. Doug had a great photo day as I got shots of all four goals.