Sting v. Madison Ridgeland United - September 5, 1999
Several things. First, the PJ800 film is remarkable. I had never used it before and it is spectacular, even expired. My film of choice has become Fugi Press 800. I think this new Kodak stuff is nicer. But the Fugi is 1/2 the price. So it wins. Second, the blue uniforms photograph much better than the white. Third, overcast skies just prior to rain make the best photos. So, for future games, wear your blue uniforms and schedule your games right before it rains. This should not be a problem. That's why nobody ever asks for my opinion.
On to the photos!
(Oh, be certain to click the individual photos to see the full-size versions.)
See what I mean? The color in these photos is awesome. In the first photo we see the Michael Jordan look.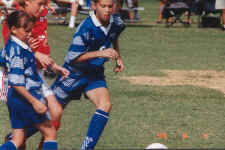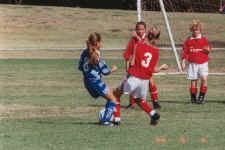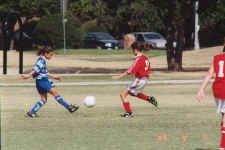 Getting the shot right before the ball hits the player's head is pure luck.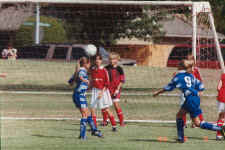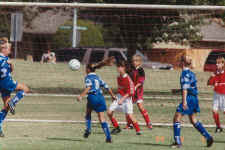 These two shots were also taken in rapid succession.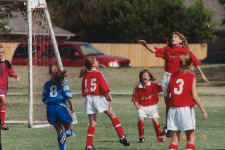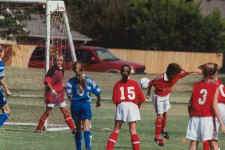 How could I take two quick shots and miss the ball in both?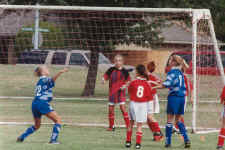 Doug is somewhat overloaded. This is just the first of five rolls taken at this game. Be patient. Remember to send all complaints to Hugo. Stay tuned.
Wait a minute. One more comment and opinion. I really think these photos are vastly better than the ones from the prior game. I would be interested to hear your comments. Please send them to doug@dougfejer.com
To see the rest of the photos hit the links below:
Page 1 Page 2 Page 3 Page 4 Page 5
Back to the way too cool Sting 89 Photo Page