| | |
| --- | --- |
| Wow. 2002 Memorial Day Tournament. Sting 89 v. Dallas Texans 89 | Wow again. 2002 Memorial Day Tournament. Sting 89 v. Dallas Texans 89 (Yes, yes, yes that is the Texans' keeper.) |
| From the 89 game against 88 Texans-West in the 2002 State Cup on May 4, 2002. Kendal Campisi demonstrates her vertical leap. (T.West keeper demonstrates nice hands.) | 2002 Memorial Day Tournament. Sting 89 v. Dallas Texans 89. (Check out the nice colors. I hate white uniforms.) |
| From the 89 game against the D'Feeters in the 2001 Spring Cup on April 13, 2001. Anna Dello Russo shows true grit. It almost appears as if they are dancing. | Also from the 89 game against the D'Feeters. Rebecca Farmer and Jillian Rosen of D'Feeters demonstrate the fine art of balancing the ball between their pony tails.. |
| From the 89 game against the Longhorns on September 23, 2000. Here we see a high flying Longhorn. Can't really say that I know what she is doing, but it is a nice shot. (I wonder if she got in the way of one of Kimberly's kicks.) | From the 89 game against the Texans on September 3, 2000. Monica Da Silva demonstrates a ballet move in her kick. |
| From the June 24, 2000 Sting 83 v Challenge game in the Snickers Regional Tournament. These two players had a fierce battle and made for several great photos. (This is a great example of why I hate the Lake Highlands rule requiring that the home team always wear white.) | Sting 89 player Kimberly Selman demonstrates the proper technique for hooking an opponent. |
| From the Sting 89 game on April 23, 2000 against the Emil Dragicevic Strikers from St. Louis. Sting's Chelsea Zimmerman pins the ball with a high flying Striker. | From the Sting 89 game against the Mid-Cities Tejanos also on April 23, 2000. Alex Whitson scores the winning goal in the second overtime. |
| From the Sting 89 game against the Longhorns in the Sony Texas Cup on November 27, 1999. Here Anna Dello Russo keeps the ball away from her Texas Longhorn opponent. | Some of my favorite photos are after goals are scored. Here Sting 89 players Hayley Tannery and Monica da Silva celebrate Monica's goal. (Super photographer Doug actually missed the goal while changing film. |
Question or Comments? Send an email to Doug Fejer the photographer/webmaster at doug@dougfejer.com Remember, all webmasters love to get emails from visitors of their web sites.
The Photos - For the internet impaired, double-click on the underlined dates to see the photos. If the date is not underlined it means I do not have the photos back from the processor. I have also tried to locate the homepages of the Sting opponents. Double-click on the underlined team names to see their respective web sites.
Spring 2001 Photos
Tuesday February 20, 2001 v Longhorns
Sting defeated the Longhorns approximately 4-0. Had a pretty bad photo night as the lights are weak to begin with plus I did not have my 300mm f2.8 as it was in the shop for repairs. Therefore, I was using a 200mm f2.0 which really limits my range. Finally, I also had my head screwed on wrong and forgot to check my checklist and blew a couple rolls of film due to improper setting. Finally, even with all that it is just impossible taking photos under the lights at UTD. It is just too dark. As a result, I have to use a very slow shutter speed 1/125 to capture the light. Many of the photos are just too blurry. But it sure was great to be back taking photos. (Something I truly love to do.) Also, stay tuned for my next set of photos as I have finally gotten my long anticipated Nikon 80-400mm AF zoom lens. (It does not work away from bright sunshine.)
Fall 2000 Photos
Saturday September 30, 2000 89 v Tejanos
Oh well, it was bound to happen. The Tejanos have had a few potential wins against Sting slip away but not this time. They pulled this one away somewhat decisively 2-0.
Saturday September 23, 2000: 89 v Longhorns
Longhorns prevail 2-1. Pretty impressive week for the Longhorns as they tied the Texans on Tuesday and then had no letdown on Saturday in beating Sting. (Sure would have liked it, however, if LHGCL would allow the Longhorns to wear orange when Sting wears blue - I just won't quit.)
Saturday September 16, 2000 89 v. Inter-White
Sting won this game 1-0. Inter came real close to tying the game with a header. Be sure to check out the Inter-White 89 web page.
Plano Labor Day Tournament
Sunday September 3, 2000 89 v Dallas Texans
Sting 89 defeated the Dallas Texans 2-1 in the quarterfinals. (Sting 89 v Dallas Texans in the quarterfinals???? I'd really be curious to hear the logic behind the seeding.) Sting was down 1-0 at the half but was able to score in the second half. This is the fourth time I have seen Sting 89 play the Texans. These games have all been remarkably close with each game being decided by one goal. It has been great fun for me to watch and photograph. (And get sunburned.) I really do appreciate the talent and determination of the players. Sting went on to win the tournament.
Summer 2000 Photos
Southern Regionals (June 24 and 25)
Sunday June 25, 2000
June 25, 2000 - Sting U19 v South Texas II (Demolition)
Sting won 2-0. This was a very hard fought game by both teams. I really enjoyed watching this game. (Can somebody send me a link to a Demolition web site?) Got a shot just prior to a nasty collision between the Sting goalie and a Demolition striker.
June 25, 2000 - Sting 83 v. Arkansas (Comets)
Don't know the score, but Sting won by a large margin.
June 25, 2000 - Sting 82 v Georgia (Atlanta HotShots)
Left the game against the Atlanta HotShots at halftime with the score tied at 1-1. An official kept me from taking photos from the team side so I don't know how good the photos that I did take will be. (This has never happened before. Inspector Clouseau was clearly doing his duty.) It is important to have the sun at my back and by the second half the 7:00 pm sun was impossible.
Saturday June 24, 2000
June 24, 2000 - Sting 82 v North Carolina (Charlotte Soccer Club)
Tough break for Sting 82. By my count North Carolina (Charlotte Soccer Club) got one shot the first 3/4 of the game but it was a goal. N.C. survived an onslaught of Sting attempts in the second half and held on to win 1-0. Wow. What a terrific game. Now that my photos are back let me add that extreme photo nuts like me are always looking for great photo opportunities. With that in mind, check out my photos of the North Carolina goalie. She is simply a running and jumping human highlight film. WAY TOO COOL!!!!
June 24, 2000 - Sting U19 v North Texas II (Magic)
Sting U19 won this game in a blow-out.
June 24, 2000 - Sting 83 v. S. Texas (Challenge 82/83)
Sting was ahead 2-0 but S. Texas (Challenge 82/83) came roaring back in the second half to tie the game 2-2. Really looking forward to see these photos as Sting was in their blue uniforms and Challenge was in red and the sun was behind a cloud for much of the game. (Terrific ingredients for photos.)
Spring 2000 Photos
Memorial Day Tournament
May 29, 2000
Lost to the Texans 2-1.
May 28, 2000 v D'Feeters
Defeated D'Feeters approximately 5-0.
May 27, 2000 v Image
We arrived at this game at the start of the second half. Since it was already 4-0 I let Lesia take the photos.
Spring Classic - Dallas Cup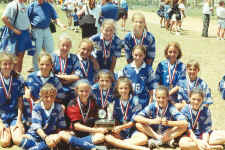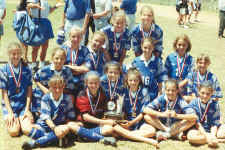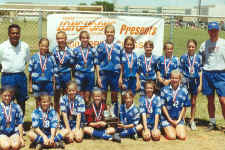 Sting 89 played in this tournament sponsored by the Longhorns Club. I went to their game on Friday against the Emil Dragicevic Strikers from St. Louis. I then attended the semi-final and final games on Sunday. It was a great photo weekend for old Doug, especially since Lesia did not have any games.

April 23, 2000 v. Strikers
Sting got a chance to avenge their loss on Friday to the Strikers. However, the Strikers prevailed 1-0 to win the tournament. Boy howdy, did they ever have an impressive tournament beating Sting twice and also the Texans in the semi-final game. Wow.
April 23, 2000 v. Mid-Cities Tejanos
Won the semi-final game 2-1 in overtime over the Mid-Cities Tejanos. The winning goal was scored by Alex. (And check out the Tejanos 89 Girls' website. Too cool. I need to figure out how to add a message board to this site.)

April 21, 2000 v Strikers
Strikers had Sting on the ropes early jumping to a 3-0 lead in the first half. Sting game back strong in the second half scoring two goals. Sting also had some thrilling shots that would have tied the game but the Strikers held on 3-2.

April 21, 200 - Sting 88
Well, I arrived at the 89 game early so I could not help but take a few photos of the 88 team's game.
April 8, 2000 v Andromeda
Went to my first game of the Spring 2000 season to see Sting defeat Andromeda 6-0. It was a sunny, yet miserably cold day. I think I got photos of all of the goals except the first one. (I was changing film.) I brought two camera bodies to the game for the express purpose of not losing goal shots due to changing film. Oh well. By the way, what have you parents been feeding these girls during the past several months. They sure have grown since the Texas Cup.
Sting 89 and The Sony Texas Cup
November 28, 1999
Lost to the Dallas Texans 1-0. Sting came real close to tying the game in the second half when a ball seemed to lay about 2-6 inches in front of the goal for what seemed like several seconds before a Texan kicked it away. Here is a link to the Dallas Texans Home Page. Here is a link to the 89 Texans Girls Page.
November 27, 1999
Defeated Texas Longhorns 4-0. My favorite shot taken at the tournament was the last shot taken at this game.
November 26, 1999
Defeated Eclipse 89 Black 4-1. Had a massive quality control failure with the processing of these photos by Sam's. (Hey, when you take as many photos as I do cheap goes a long way.) Any way, I should get the photos back any day now.
Other Sony Texas Cup Games
November 28, 1999 Championship Game
The Texans defeated Inter 1-0. The game's only goal came off a penalty kick for a handball. Pretty costly handball for Inter. A true defensive struggle. Neither goalie saw a lot of hard work.
November 27, 1999
Dallas Texans v Albuquerque United. Dallas Texans won 5-1. Albuquerque got the first goal and were able to keep the lead for a while but the Texans came roaring back. Only saw a little more than the first half. I also only used one roll of film but got several good shots. Had a pretty good batting average for this game.
---
October 16, 1999
Defeated Soccer America 4-0. I missed most of the first half attending Lesia's game. Actually, Lesia took about the last 10 photos of the game so I am looking forward to seeing the results.
October 9, 1999
Lost a close one to Dallas Inter-Blue 2-1. It was raining at the start of the game so I only began taking photos mid-way through the first half after the rain stopped. Here is the Dallas Inter home page. (Pretty nice page.)
October 2, 1999 v Texas Lightning
Scored many goals against the Lightning. One of the day's highlights was Monica's goal, which I missed. (Sorry Hugo.) Here is a link to the Texas Lightning Soccer Club page.
---
Plano Labor Day Tournament
9/6/99 Finals
Lost to the Dallas Texans 1-0 at the close of the second overtime period. It was a very entertaining game. Here is a link to the Dallas Texans Home Page. Here is a link to the 89 Girls Page.
9/6/99 Semi-Finals
Defeated D'Feeters 2-0 in the semi-finals of the Plano Labor Day tournament. Here is a link to the D'Feeters Home Page. (This is a nicely done page.)
9/5/99
Defeated Madison Ridgeland United 3-0. I will let everybody know up front that I was changing film when the second goal was scored on a header.
---
8/28/99
Defeated Storm 89 many goals to no goals. Here is a link to the Storm Soccer Club. Here is a link to the 89 Storm Girls Homepage.
Doug's Equipment
(Updated 2004-05-17)
The comments below were written five cameras ago. I later bought a Nikon F5 (My last film camera and the last camera I thought I would ever buy in my lifetime. It lasted 18 months. Still have it. Need to put it on EBAY) Then I went digital buying a Nikon Coolpix 990 and then a Nikon D100 and most recently a Nikon D2h. Only difference now is that I don't think for a second that the D2h will be my last camera - god willing.)
First, I take photos the old fashioned way. I use a 20-year old Nikon F-3 camera. It is a manual focus camera, although the shutter speed is automatically determined by the camera based upon the film that I am using and the f-stop that I manually select. Despite the bright sunlight I have become a big fan of 800 speed film. This allows me to "stop-down" the lens giving me a very broad "depth of field," i.e. more stuff is in focus. Lately I have been using Kodak PJ-800 Ektapress film, although I am traditionally a big fan of Fugi film. I buy the film through a New York mail order house, usually 40 rolls at a time. I also use a Nikon 300mm f2.8 lens and a Nikon TC-14b Teleconverter. This makes the effective focal length of the lens 420mm.
Given the vast number of photos that I take, I then take the film to Sam's for processing. Sam's does a decent job and charges less than 1/2 the price of the more conventional processors. Once I get the prints back I scan them (the prints) using a Hewlett Packard Photosmart scanner. The resulting scan is a .tiff file approximately 1.6meg in size. I then compress the photos into .jpg files using ThumbsPlus software.
I then construct the web pages using Microsoft Frontpage. This is actually the easiest part of the process. This software is no more difficult to use than Wordperfect or Word.
The final step is to upload the files to my own internet server. It is an old Pentium 90 computer that Dr. Dave Turner converted into a Linux web server. Before I got the server I was constantly having to delete old photos as I added new ones. For now, anyway, I have unlimited web space in which to put my photos.
To see the rest of my too cool photos, go to www.douglasfejer.com