2001 Spring Classic
Sting 89 v Texans (April 15, 2001) - Roll 1
(Click on the individual photos to see the full-size versions)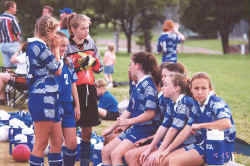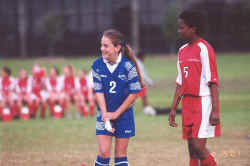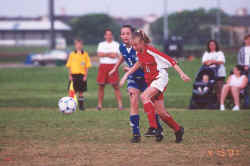 #13 for the Texans could star in the next Holiday Inn Express commercial. She got out of bed Easter Sunday morning and at 8:00am scored two of her team's three goals against Sting in the semi-finals and then went on at noon to score all three of her team's goals in their championship victory over the Strikers from St. Louis. Guess she got a good night's sleep. (And check out those cool braids.) Wonder if she had parents or relatives at the games. How do you possibly describe that kind of performance at the dinner table to somebody who was not there to see it? Congratulations!!!!! That has to be the star performance of the year in all of Dallas soccer. Not only that, but she may have actually succeeded in getting more press on GotSoccer than Anatoliy. Now that is an accomplishment.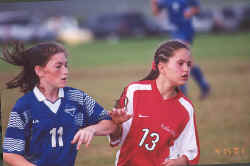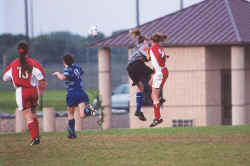 Pretty uncommon for me to get a photo at exactly the moment the foot hits the ball.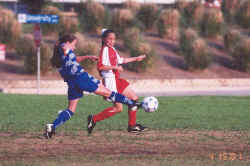 A lesson in while I hate white uniforms. Ok, so the uniform is red. However, if the white stripe was not as wide and the man on the sidelines was not wearing a white shirt this would be an awesome photo. The contrast is destroyed by the white clothing.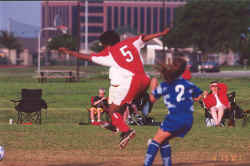 My able assistant was on hand for the game. Have no idea where she got the shorts.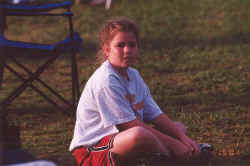 I really like this shot. Would not be as nice with white uniforms. Sorta looks like the Pope standing up to bless the masses.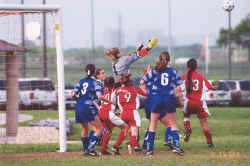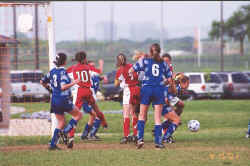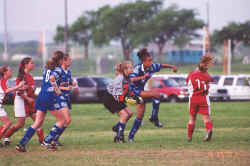 Here are my last two shots of the roll. #13 moves to the goal and scores in the second shot. I missed some great shots immediately after the goal while changing film.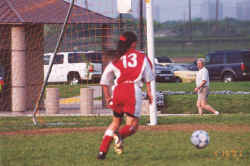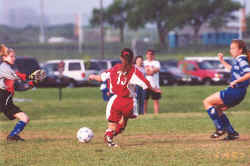 Click on the links below to see the rest of the photos.
Roll 1 Roll 2 Roll 3 Roll 4 Roll 5
Back to the Sting Photo Page