January 2001
October 30, 2004 Black Belt Test
Update - October 28, 2000 Black Belt Test
(7-14-98) News from the Junior Olympics
The TKD Junior Olympics were held last week in Orlando, FL. From the Dallas studio; Lesia won a gold medal and Jimmy got a bronze. From the Plano studio; Mark got a silver and Hunter and Alicia both won bronze. Below are photos of Lesia along with Beth and Alex in the hotel room following her victory. (Click on the thumbnails to see the full-size photos.)
Before we get on to the belt tests, here are recent photos taken at private lessons.
For you camera buffs, the above four pictures above were taken with a Nikon F3 using a 35-135mm zoom lens and Kodak 400 Gold film. The following five pictures were taken the same day using the same film but a Nikkormat ftn using a Nikkor 35-105 zoom lens. Note how much nicer the color appears in the first photos. (In case you are wondering, you should not look at the photographer as you are hitting the bag with a jump side kick, as Alex demonstrates.)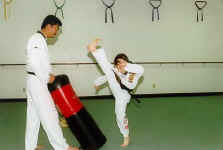 Wait, not so fast. This next one is now my favorite TKD photo. Here is my daughter Lesia breaking a board with my son Alex assisting Master H.P. Ahn with the hold.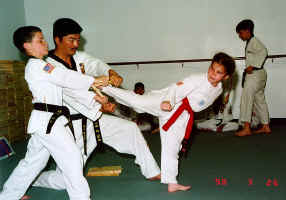 OK. Now you can hit the links below to see photos Alex and I took at various belt tests.
October 28, 2000 Black Belt Test
Alex received his second degree black belt.
April 29, 2000
After a long absence, I have returned to a black belt test to take photos. Showed up in somewhat of a haste and did not have time to get new batteries for my two flashes. (Lesia and I took photos.) As a result, these photos are pretty dismal. I am almost embarrassed by the poor quality.
December 12, 1998
I did not take photos at this belt test, but Alex and Lesia did. This was Lesia's first attempt at photography. I recently bought a second F3 so that both Alex and I could use the same equipment. I forgot that Lesia may also like to take photos. So now I am in the market for yet another camera. Maybe this time I could splurge and buy the new F5. (It is the Chrismas season, right?) Anyway, Alex took prints using a 35-105 mm zoom lens. Lesia, and Becca, too, were using a fixed length 50 mm lens with slide film. The problem with slides, or transparencies to the pros, is they take approximately two weeks to have developed. Alex's shots appear on the link page. Stay tuned for Lesia's and Becca's results. (It's no joke. I actually showed up at a belt test with two cameras and several rolls of slide and print film and did not take a single shot.)
October 24, 1998 Black Belt Test
Lesia and Beth are now black belts.
August 29, 1998
I have gotten pretty tired of Alex taking better shots than me. See for yourself and send me an email with your opinion.
June 27, 1998
Lesia and Beth tested for their first degree red belts today. Big news for me was that Alex was not around to help me since he had a baseball game. Since Lesia and Beth both tested, I splurged and took the film to Wolf's Camera for 1 hour developing instead of Sam's, hence the appearance of this webpage on the same day as the test.
May 30, 1998 fixed
Big belt test today with about 27 people testing. However, it took less than 2 hours with very few misses on the breaks. (Credit those new break-away boards.)
April 1998 Black Belt Test
Seven candidates at the test today including at least two advancing to higher black belt levels. Alex took a roll of film and I got two. The fun thing about black belt tests is the much higher % of breaks per attempt. My regular flash is off at Nikon USA being repaired. I used an older back-up version that takes much longer to refresh, so I hope the flash was bright enough for most of the kicks.. (Excuses, excuses.) Photos will be back Wednesday. I will try to have them on this page by Friday. (I also had a soccer game on Saturday.)
November 1, 1997 Black Belt Test
I put a page together showing the various photos taken of Alex at the Nov. 1997 black belt test. The link is at Alex's Black Belt Page.
Beth got her third degree red belt at the November test. Lesia got her third red at the December test. You can view their photos at Third Red.
Lesia and Beth got their Brown Belts on August 30, 1997.
Akhil Kara received his first red on April 26, 1997. This page contains one of my best photos ever.
Other Points of Interest
You can also visit Doug's Hornets Soccer Page to see Lesia's soccer team in action.
Take a look at Alex's baseball team at Alex's Baseball Page.
Visit my home page at Doug's Home Page.
Or send me an e-mail (especially if you are one of the TKD parents visiting this page.) Click this link to send me a message: Paparazzi (Actually, I prefer to be known as a "photo-journalist.") (Yea, right. "Hack" is more appropriate.)
One of the rules for having your picture appear on Doug's Tae Kwon Do Page is that your shirt needs to be tucked in, as Chad demonstrates.